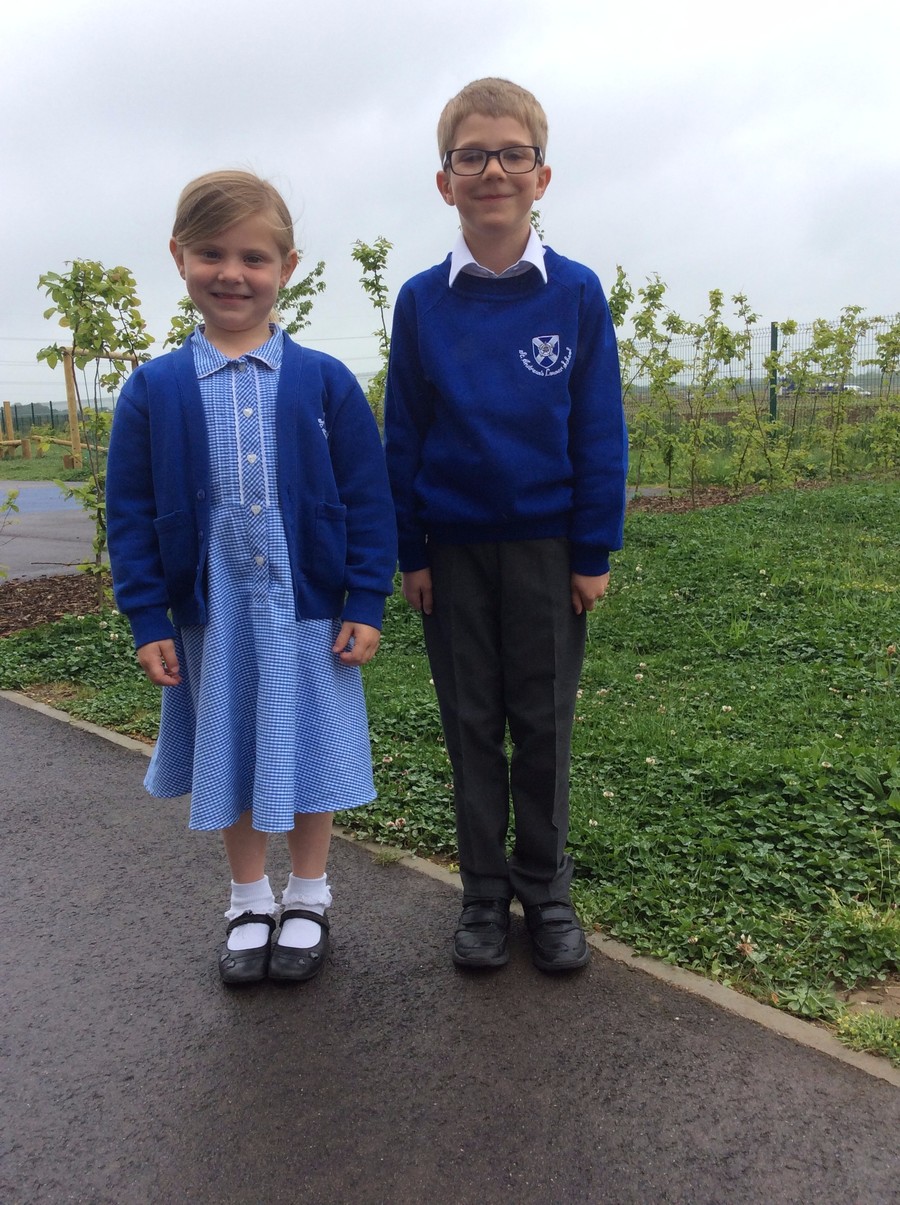 Our school uniform is as follows:-
Boys:
White shirt or blue polo shirt, royal blue sweatshirt (St Andrew's School sweatshirt, available from PMG Schoolwear), grey trousers or shorts.
A St Andrew's fleece is also available from PMG Schoolwear for Spring/Autumn weather.
Girls:
White blouse or blue polo shirt, grey skirt/pinafore dress/trousers, royal blue sweatshirt or cardigan (St Andrew's School sweatshirt or cardigan, available from PMG Schoolwear). Blue/white checked/striped dress in the summer.
A St Andrew's fleece is also available from PMG Schoolwear for Spring/Autumn weather.
Footwear:
Black sensible (no high heels) shoes and sandals should be worn. Trainers, boots and sport shoes are not suitable for daily wear in school.
P.E:
T-shirt and blue shorts. Trainers for outdoor PE. Tracksuits should be worn for outdoor games in colder weather.

Click here for the St. Andrew's PMG Schoolwear page.
JEANS SHOULD NOT BE WORN IN SCHOOL
Every reasonable care is taken to ensure the safety of clothing and other articles, but the school cannot accept liability in the event of loss or damage. Please mark your child's clothing and property clearly so that it can be readily identified if mislaid.
The lost property bins are available to parents for search and rescue before and after school. At the end of each half term named items will be returned to children but anything unnamed will be recycled. Bringing toys to school is discouraged unless they are specially required by staff in connection with schoolwork. Toy guns are forbidden. The wearing of jewellery is not encouraged, as it is hazardous and loss or damage of precious items can cause distress. Long hair should be tied back and earrings left at home on PE days. Children should not come into school with colour in their hair, wristbands, transfers, trainers or make up. The uniform helps children to come to school in the right frame of mind for work and promotes a sense of belonging. Our school uniform supplier is PMG Schoolwear, 01895 809 321, or www.pmgschoolwear.co.uk
Please note that the cloakroom areas cannot accommodate large sports bags and back packs. It is recommended that children have a book bag to carry books, snacks etc. and a drawstring PE bag.
Book bags £3.50, Large P.E. bags £4.00, Small P E Bags £3.50 and Water bottles £1.00. All available from the School Office.